Are you affiliated with Cash 4 Gold.com?
No we are not, we are a completely separate entity.
Do you buy plated jewelry?
No, we do not.
What do you pay per gram/ounce?
This is a common question, please know what karat jewelry you have otherwise we cannot give you a quote over the phone without seeing your jewelry. Also please see the Latest Prices Link.
If I find a higher price will you beat it?
We have refiner direct pricing which is hard for other gold buyers in the Bay Area/Walnut Creek to match our pricing, but if you do find one for some reason we will beat it!
How much gold jewelry equals an ounce of gold?
It takes 2.400 ounces of 10K, 1.714 ounces of 14K, 1.333 ounces of 18K or 1.091 ounces of 22K gold jewelry to equal one ounce of pure gold.
What do the 4C's for diamonds mean?
Refer to this chart by GIA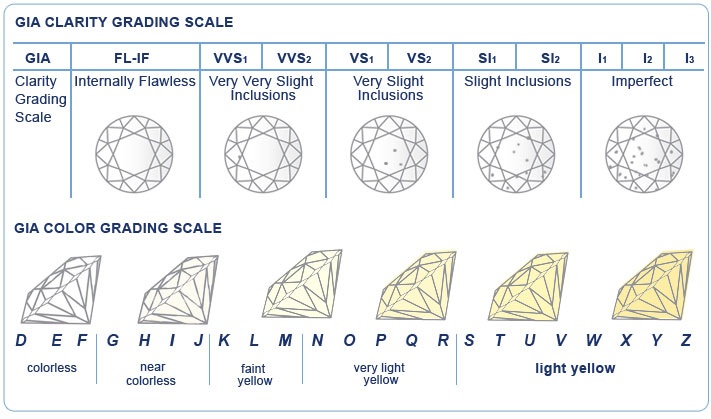 Do you charge to look at my jewelry?
We do not, we will be happy to give you a quote free of charge.
Do you buy electronics, instruments, tools, or gift cards?
If it's not listed under the "What We Buy" section, no we do not.
Do I have to pay taxes if I sell coins?
If a transaction is above the limit required by law and/or IRS regulations we issue a 1099. Please ask your CPA for any tax reporting requirements regarding capital gains.
CASH GOLD STORE IN WALNUT CREEK, CA IS AN INDEPENDENT COMPANY AND NOT AFFILIATED WITH ROLEX WATCH USA, INC.
AND IS NOT AN AUTHORIZED AGENT FOR ANY WATCH OR JEWELRY MANUFACTURER.